Free Coffee Tastings, Artisan Market and Community Open Mic
Saturdays, 9:00 AM to 1:00 PM
Tasting coffee with people leads to an intimate human connection. Talking to people about coffee often leads to a very deep interpersonal experience, invoking memories and feeling. What started off as a coffee tasting/sales event five years ago slowly exceeded all expectations. A desire was being fulfilled; a cultural community venue used for sharing knowledge and linking the intimacy between people, coffee, and community. This is a community-building event where people meet and discuss politics, form groups and neighbors make dates to barter their own garden grown products. Many local artists use Moschetti as a free venue to expose their craft and meet the public, musicians and poets share their talent during the open mic, food start ups showcase their local fare, honey, baked goods and farmers share their plant starters or eggs.Every Saturday, Moschetti, Inc. transforms from a full production coffee roasting facility into a retail location with a coffee house aura that has helped make Vallejo a destination, luring people from all over the San Francisco Bay Area to its Community Coffee Tasting Event. This weekly meet up has only gained momentum with time. People converge at our roasting facility every Saturday to sip, savor, select, and purchase freshly roasted coffee from a local artisan. Regular attendees show up to kick start their weekend, some driving all the way out from the East Bay, Marin, and Sonoma Counties to participate in our Saturday cupping.

Moschetti serves samples of the best coffee beans from the world over, roasted fresh and brewed hot and ready for your sipping pleasure! Sit back, meet your neighbors, and listen to local talent on our open mic, and if you've got poetry or a song to share, stand up and share it. Enjoy the work of local artists, craftspeople and food vendors, or if you are an artisan, to set up a booth. Come meet other art lovers and be inspired by your local community!
The roasting facility is open for retail sales Monday through Saturday with bags of Moschetti beans ready to fly off the shelves and onto your kitchen counter.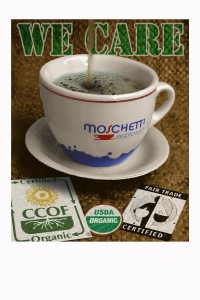 Supporting local artists and businesses
Moschetti's shops local first. Our promotional materials are designed by local artist SN Jacobson, our web site is serviced by a local developer, and the works of local artists adorn our walls.
Donations and Fundraisers
Moschetti contributes to local non profits, and donates fresh-brewed coffee for community-based events and fund raisers.