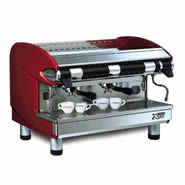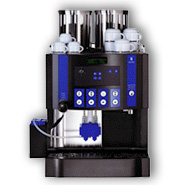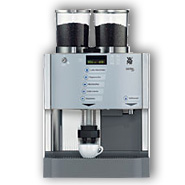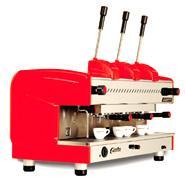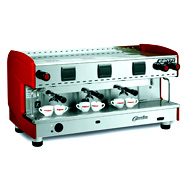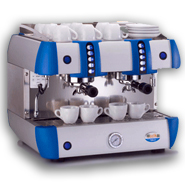 WMF Bistro
From the "barista" touch to the touch of a button.
The art of fine espresso transcended to the simplicity of a single touch. With the WMF BISTRO, exceptional espresso drinks are produced consistently and effortlessly independent of the operator. Don't allow the WMF Bistro's ergonomic design and futuristic styling mask the powerful machine hidden within. Come and test it for yourself.
Main Features
One touch operation (Fully Automatic).
High output capacity (250 cups/hour).
Ergonomic design.
Inventory tracking.
Easy programming.
Separate decaf grinder (optional).
Preground coffee bin for additional coffee selections.
Custom Options and Accessories are available. [top]
Conti Espresso
Conti enjoys worldwide recognition as a leader in the coffee machine industry. Right in the very heart of Monaco, Conti's manufacturing plant is situated just above the world famous Formula 1 Grand Prix circuit, overlooking Monaco's splendid harbor. Conti, with over 45 years of production, has the highest quality standards and provides unparalleled service.
Why Conti ?
The boiler size will determine the ability of the operator to heat and froth the milk (90% of all espresso drinks in the USA are milk based). CONTI 2 group machines have at least a 4 gallon (14.2 L) boiler, this is the largest boiler found in a two group machine on the market today.
The heating element will determine how fast the incoming water reheats as the boiler is depleted. CONTI 2 group machines feature a 4000 W heating element, one of the most powerful elements found in espresso machines. The machine operator will have hot water and steam without delay.
Water pumps can be either internal or external. CONTI machines are fully self-contained, so there is no bulky pump to "hide" under the counter. CONTI has designed the machines with easy access to the pumps for maintenance, and a convenient installation.
Quality of materials and construction is instrumental in the overall appearance of the machine, as well as its life expectancy. CONTI machines are made of stainless steel and copper, both known for their resilience.     [top]
Astra
Astra Manufacturing has been producing espresso/cappuccino machines that compete with and surpass traditional Italian coffee machines since 1993. Astra has received numerous awards and recognitions for its line of products. ASTRA has become synonymous with reliability and ASTRA machines have continuously been acclaimed for their engineering, quality and simplicity. Each ASTRA machine utilizes aerospace engineering and products that allow the machines to operate continuously for years without the need for expensive repair or maintenance. [top]>
La Marzocco
In 1939, it was La Marzocco that developed and patented the first coffee machine with a horizontal boiler, now an industry standard. This was the first of a series of important innovations, later to include the dual-boiler system with saturated brewing groups. Tradition and a passion in the search for quality and superior reliability are factors which have always distinguished and interested the entire company. [top]