Moschetti, Inc. is a family owned, artisan coffee roaster, built from the ground up through twenty-five years of hard work, inspired by genuine love for the product. Our focus is on providing the best coffee and personal service to San Francisco Bay Area clients.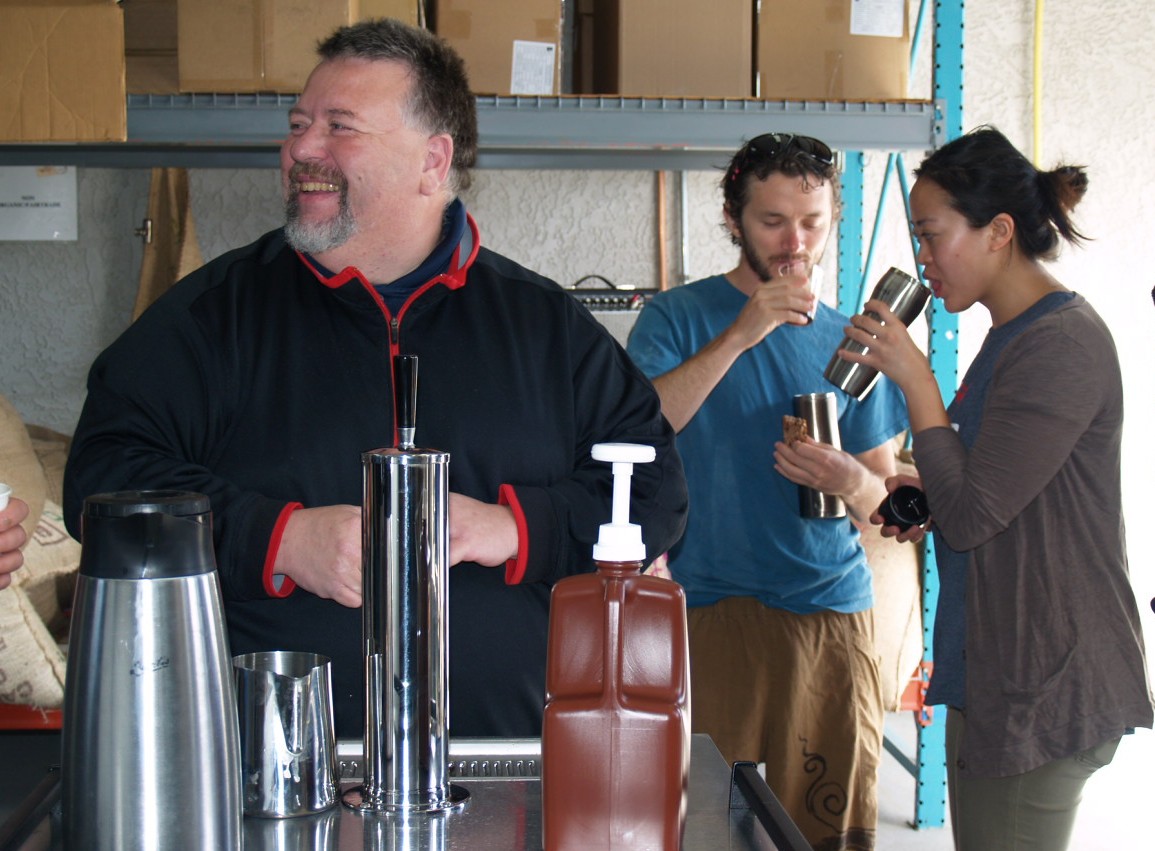 Moschetti is dedicated to providing the freshest, best tasting, small-batch, slow roasted, specialty coffee. Each batch is individually calibrated to enhance the roasting process, developing peak flavor, and complex sensory profiles. There are no hidden secrets — just premium beans treated with the utmost respect. Moschetti roasts six days a week to ensure optimum freshness, then delivers to over 300 locations throughout the Greater San Francisco Bay Area within mere days of production.
Fabrice Moschetti's work of love…
Moschetti, Inc. was established in 1990 when, after moving to Napa in 1989 for an internship, I decided to stay in the US and began importing pasta and espresso machines from Europe. Our customers were starting to ask where to buy good coffee beans. After several attempts at toll roasting, we decided to purchase a 12kg used Has Garanti Roaster to roast our own beans. Talk about love, that little machine was running all the time! To keep it alive, we had to keep cleaning it, greasing it, and changing the bearings like maniacs. Many nights we roasted from 5am to midnight- including Saturdays — but that was so much fun! I was young and full of energy, and used to live at the roastery (lucky me). I loved all the new olfactory sensations that roasting has to offer. I remember the first time I roasted a natural Ethiopian coffee. When the room began to smell like blueberry, I thought I was going crazy. I thought someone had tricked me and spiked it with blueberry extract! The pure nutty aromas arising from a Central American coffee roast, I found to be absolutely incredible! I was on a sensory tour, going from Sumatra to Guatemala in 20 minutes flat..
Sourcing
At Moschetti, we seek producers of quality beans through the connections we have made in over twenty-five years in specialty coffee. We source our coffees as directly as possible to provide maximum incentive to the fine craftspeople who produce what we celebrate.
Many of our coffees are purchased directly from farms or cooperatives. We always pay a fair price and buy our coffee from producers that pay a living wage.  Contrary to large operations, which aim to produce a generic, more blended product, Moschetti owes it's success to processing exotic beans from unique origins; roasting beans from small plantations, single estates, and fair trade organic coffees from cooperatives who practice sustainable farming while improving the lives of their members.
We recognize that the coffee farmer is the true artist. Each bean tells a story of hard work, dedication and passion. The farmer selects the right plant for the location and nurtures the plants according to the terroir. The farmer decides how to process the coffee beans; whether to hull completely or with a little fruit remaining, whether or not to wash, to dry in the sun or on the ground, on concrete or on wood. All of these variables come to play in the final outcome and make the difference between an average and a fantastic coffee.
Roasting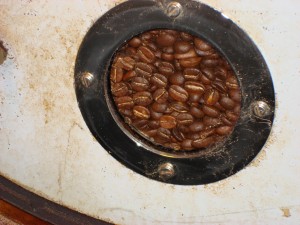 True artisan quality cannot be achieved by mass production. We tread lightly when we roast the beans, carefully enhancing the natural product and preserving the unique regional and seasonal character of each small batch rather than branding it with heavy caramelization. We don't use a standard recipe, but roast each batch to bring out its best qualities; one variety may benefit from a lighter roast to bring out a specific aroma, while another will be best served with more "toast".
Our weekly, free coffee tasting events are open to the public. We believe in educating the customer and try to be an interface between the farm/producer and the consumers.
Distribution
Coffee is best experienced fresh, with peak flavor achieved at around seven days after roasting. We focus on selling our coffee locally to retain optimal quality. We deliver to within 100 miles of our Vallejo shop to ensure freshness. We are happy to remain a small, local business that can consistently provide the best-tasting product.